YouTube CENSORED: DOCTORS IN BLACK / PlanDemic
---
See The Video Youtube Banned Of California Doctors' Exposing COVID-19 Hoax
---
From Dodgy Dossiers To The Sacking of Whitlam: The British Empire Stands Exposed
I could go on, but I think you get my point.
The Disrupted Post-WWII Potential
Franklin Roosevelt described his deep understanding of British operations in America, telling his son in 1943:
"You know, any number of times the men in the State Department have tried to conceal messages to me, delay them, hold them up somehow, just because some of those career diplomats over there aren't in accord with what they know I think. They should be working for Winston. As a matter of fact, a lot of the time, they are [working for Churchill]. Stop to think of 'em: any number of 'em are convinced that the way for America to conduct its foreign policy is to find out what the British are doing and then copy that!" I was told… six years ago, to clean out that State Department. It's like the British Foreign Office…."
Where the British Empire certainly adapted to the unstoppable post-WWII demands for political independence among its colonies, it is vital to keep in mind that no empire willfully dissolves or "gives its slaves freedom" without a higher evil agenda in mind. Freedom is fought for and not given by empires which never had a reason to seek humility or enlightenment required for freedom to be granted.
In the case of the post-war world, the deliverance of political freedom among the "former British Empire" was never accompanied by an ounce of economic freedom to give that liberation any meaning. Although it took a few years to iron out America's anti-colonial impulses over the deaths of such figures as JFK, Malcolm X, MLK and RFK, eventually the rebellious republic was slowly converted into a dumb giant on behalf of the "British brains" controlling America's Deep State from across the ocean.
The Case of Africa and the Crown Agents
In 1996 Crown Agents was privatized as 'Crown Agents for Overseas Government and Administration' where it became active in Central and Eastern Europe with its greatest focus on Ukraine's economic, energy and health management. The agency is partnered with the World Bank, UN and Bill and Melinda Gates Foundation and acts as a giant holding company with one shareholder called the Crown Agents Foundation based in Southwark London.
"101 companies listed on the London Stock Exchange (LSE) — most of them British — have mining operations in 37 sub-Saharan African countries. They collectively control over $1 trillion worth of Africa's most valuable resources. The UK government has used its power and influence to ensure that British mining companies have access to Africa's raw materials. This was the case during the colonial period and is still the case today."
As we can see by this most summary overview of the modern imperial looting operations of Africa, the spirit of Cecil Rhodes is alive and well. This will take on an additional meaning as we look at another aspect of Rhodes' powerful legacy in the 20th century.
The British Takeover of American Intelligence
"Why should we not form a secret society with but one object the furtherance of the British Empire and the bringing of the whole uncivilised world under British rule, for the recovery of the United States, and for the making the Anglo-Saxon race but one Empire…"
Later on in his will Rhodes stated: "Let us form the same kind of society, a Church for the extension of the British Empire. A society which should have its members in every part of the British Empire working with one object and one idea we should have its members placed at our universities and our schools and should watch the English youth passing through their hands just one perhaps in every thousand would have the mind and feelings for such an object, he should be tried in every way, he should be tested whether he is endurant, possessed of eloquence, disregardful of the petty details of life, and if found to be such, then elected and bound by oath to serve for the rest of his life in his Country. He should then be supported if without means by the Society and sent to that part of the Empire where it was felt he was needed."
Among the four Anglo-Saxon members of the Five Eyes that have the Queen as the official head of state (Britain, Canada, Australia and New Zealand), all feature irrational forms of government structured entirely around Deep State principles organized within two opposing forms of social organizing: democratic and oligarchical… with the true seat of power being oligarchical.
Because this peculiar self-contradictory form of government is so little understood today, and because its structure has made Britain's globally extended empire so successful, a few words should be devoted to it now.
A House Divided Against Itself…
In the case of Westminster-modelled Parliamentary systems, Senates represent the House of Lords, while Houses of Commons (for the Commoners) represent the elected parts of government. A prime minister selected by the governing party is assumed to be that nation's leader, but unlike republican forms of government, instead of the "buck stopping there" (at least legally speaking), it is precisely there that the true sphere of power only begins to be felt.
Here parliamentary/quasi-democratic systems projected for public consumption find themselves enshrined within a much more shadowy and Byzantine world of Governor Generals (acting as the heads of state) who give Royal Assents to all acts and wielding the infinite prerogative powers of the Queen (aka: the "Fount of All Honors"). In the British Imperial system, hereditary power is seen as the source of all authority for all aspects of government, military, and economic- whereas in republican forms of government that authority is seen as deriving from the consent of the governed.
Where rights are "granted by the sovereign" within hereditary governments, republican forms of government recognize correctly that rights are fundamentally "inalienable" to humanity (in principle though not always in practice as the troubled history of America can attest).
By being essentially the legal "cause" of all authority among every branch of the British official and unofficial corridors of power, an obvious absurdity strikes which the empire would prefer plebs not think too seriously about: The queen and her heirs cannot themselves be UNDER any law, since they "cause" the law. This means that the queen, her heirs and anyone whom she delegates authority to literally have "licenses to kill". The queen cannot be taken to court and she has no need of a passport or even a drivers' license… since these items are issued by her crown's authority alone. Within the logic of British legal systems, she cannot be held legally accountable for anything which the Crown has done to anyone or any nation of the world.
Although much effort goes into portraying the Crown's prerogative powers as merely symbolic, they cover nearly every branch of governance and have occasionally been used… although those British spheres of influence where they most apply are usually so self-regulating that they require very little input from such external influence to keep them in line.
"Domestic Affair, the appointment and dismissal of ministers, the summoning, prorogation and dissolution of Parliament, Royal assent to bills, the appointment and regulation of the civil service, the commissioning of officers in the armed forces, directing the disposition of the armed forces in the UK (and other Commonwealth nations), appointment of Queen's Counsel, Issue and withdrawal of passports, Prerogative of mercy. (Used to apply in capital punishment cases. Still used, eg to remedy errors in sentence calculation), granting honours, creation of corporations by Charter, foreign Affairs, the making of treaties, declaration of war, deployment of armed forces overseas, recognition of foreign states, and accreditation and reception of diplomats."
Acting on Provincial levels, we find Lieutenant Governors who (in Canada) happen to be members of the Freemasonic Knights of St John of Jerusalem (patronized by the Queen herself).
All figures operating with these authorities within this strange Byzantine world are themselves a part of, or beholden to figures sworn into the Queen's Privy Council- putting their allegiance under the total authority of the Queen and her heirs, rather than the people or nation in which that subject serves and lives. If this is hard to believe, then take the time to listen to Canadian Prime Minister Justin Trudeau's oath upon entering the Privy Council to get a visceral taste of this medieval policy in action (every cabinet member, Prime Minister and opposition leader must take this oath if they are to be granted intelligence briefings from her majesty's intelligence services.)
Standing Defiant Against Natural Law
In all aforementioned cases, Democratic institutions that are premised around the concept that all citizens are made equal and free in the image of a creator are never long tolerated within the cage of a system of oligarchism premised upon the belief that only one person is sovereign and her/his word is absolute law for all slaves, and minions of the ruling bloodline.
---
Lies, Damned Lies, & COVID-19
Being an honest sort, I have considered whether I ought to write to the editors of my old university's magazine, accusing them of playing toady to democracy-destroying propagandists.
Should I remind these so-called educators of the young that the term "shelter in place" is properly applied to air raids, not to "pandemics," and is a cruel hoax when pressed into service to describe what is actually an illegal quarantine?
And that while she's stuck in her room — for no good reason I can discern — a whole host of local bus drivers, contract workers and university employees, including dining hall service workers who've labored there for decades, are all out of jobs?
I'd like to write all that, and more, to the purveyors of this bit of fake news. But I suspect I'd be wasting my time.
The authors (Alexis Madrigal and Robinson Meyer) grudgingly concede the growing evidence that going outdoors, instead of being cooped up for months at a time per lockdown fiats, actually reduces the risk of infection.
They also admit that those who enforce our confinement clearly don't believe their own hype about "social distancing": police are "crowding protesters together, blasting them with lung and eye irritants, and cramming them into paddy wagons and jails."
They even point out that the police themselves rarely bother separating from one another. But ultimately none of that matters to the liberal Atlantic: it's "obvious" — evidence be damned — that just "standing in a crowd for long periods raises the risk of increased transmission of SARS-CoV-2." Who says so? Why, Anthony Fauci does.
They even admit that in Georgia and Florida, two states that enforced lockdowns least and opened up earliest, the numbers of new infections have been "relatively flat."
In the face of so much good news, what are right-thinking police-state enthusiasts to do?
So I'm not planning to write to the editors at my alma mater — at least, not about that propagandists' playground known as COVID19. When rights-trampling, economy-busting general incarceration is the fashion in the Land of the Free, when lying is good sense and wrecking lives is "health care," my old ideas of rational persuasion start to look like a parasol in a monsoon.
Instead, I am going to do a bit of ranting about words — the elements that lies are made of. I do this because I am sure the twisting of language to cloak political and economic skullduggery — which I take to be the worst evils of the coronavirus outbreak — will be glossed over in future mainstream accounts.
Shelter in place.
The fraudulent use of this term stands in synecdoche to all the rest. "Shelter in place" originated in US Civil Defense regulations in the context of a possible nuclear attack; over the following decades, the term evolved to mean any emergency order to "take cover until the coast is clear on order of officials." But it has never had the slightest connection with disease control.
An order that restricts the movement of someone who is not ill, but who is suspected of contact with someone who is, is called a "quarantine." But there are laws that regulate slapping quarantine orders on people — to say nothing of an entire population — and the governors and mayors who were bent on lockdowns clearly didn't intend to be constrained by anything as pedestrian as the law.
It's worth taking a moment to imagine how this trick must have been hatched in the bowels of some executive mansion.
And I can see a harried assistant, having rummaged for hours in the archives, jogging into an office with the term "shelter in place" and a rather sheepish explanation that, well, it's not about infection control, and doesn't really have anything to do with the present situation, but it does say "in place" and, um, "shelter" and, you know…and anyway, for God's sake, there isn't anything else!
And then it's not hard to imagine the boss (who knows the media better than his subordinates do) triumphantly working the words "shelter in place" into his next public address, confident that few mainstream reporters will ask him where the phrase came from.
Social distancing.
Social distancing refers to methods for reducing frequency and closeness of contact between people in order to decrease the risk of transmission of disease. Examples of social distancing include cancellation of public events such as concerts, sports events, or movies, closure of office buildings, schools, and other public places, and restriction of access to public places such as shopping malls or other places where people gather.
Note that this definition does not include keeping people six feet apart, stifling them with surgical masks, or barring them from inviting family members to their apartments. Evidently, not even the germophobes at the CDC were prepared to contemplate so brutal a disruption of human life just thirteen years ago.
In other words, "social distancing" really means whatever the changing whims of our governors would like it to mean, as they continue to exercise "emergency" powers in what is clearly not an emergency. Meanwhile, the use of the term gives a false patina of scientific legitimacy to unprecedented government intrusions into the most basic interactions of human life.
This implies that, at bottom, "social distancing" is not intended to serve any genuine medical purpose. It's much better understood as an instrument of political repression — a way of keeping people apart and preventing any sort of public organizing.
That AEI is in no hurry to help small businesses reopen or to keep working people from losing their jobs will come as no surprise. What needs emphasis is that if such an outfit couldn't hide its agenda behind the medical-sounding phrase "social distancing," it would stand little chance of slipping its initiatives past the general public and into practice. But while we're all creeping around with our faces wrapped like mummies, turned away from each other whenever possible, staying at least six feet apart, and speaking only when spoken to, how are we supposed to mount effective political opposition as the high rollers play their favorite games?
Emergency.
Though it's not often reported this way, the United States largely suspended democratic government back in March, when some 40 state executives declared "health emergencies," granting themselves quasi-dictatorial powers to act without legislative approval or legal process.
Nevertheless, liberal media didn't utter a peep when governors across the nation effectively scuppered democracy in the face of what, however threatening, didn't even arguably resemble a catastrophic bioterror attack.
If that strikes you as a flagrant abuse of the word "emergency" for questionable political purposes — and it should — you ain't seen nothing yet.
What was the "emergency" this time around? In the governor's own words: "there has now been a decrease in the rate of reported new cases of COVID19 in New Jersey, in the total number of individuals being admitted to hospitals for COVID19, and in the rate of reproduction for COVID19 infections in New Jersey."
Got that? New cases, hospitalizations, even the "rate of reproduction" for the virus are all on the wane throughout Murphy's jurisdiction. (And have been for months.) Yet in today's Newspeak, that's an "emergency" — enough to justify another month of democracy-free rule by executive fiat.
And I'm the Maharaja of Mysore…
I'll only note that if the lockdown enthusiasts had been able to specify an actual goal, in intelligible language, they would have done so from the start. They couldn't — because their true objectives were political, not medical — so they offered us a magical-thinking cartoon image instead. They must be hoping we still haven't noticed.
As always, fraudulent language goes hand in hand with fraudulent political posturing, of which the Atlantic article I've already mentioned — oozing crocodile tears over the excesses of the cops while oblivious to the Constitution-defying antics of Governors Cuomo, Murphy, Whitmer et al. — is a rather rank example.
Douthat's indictment of highbrow hypocrisy on this score is so accurate that it is worth quoting at length:
[T]he original theory behind a stern public health response — that the danger to life and health justified suspending even the most righteous pursuits, including not just normal economic life but the practices and institutions that protect children, comfort the dying, serve the poor — has been abandoned or subverted by every faction in our national debate…. There is no First Amendment warrant to break up Hasidic funerals while blessing Black Lives Matter protests, and there is no moral warrant to claim that only anti-racism, however pressing its goals, deserves a sweeping exception from rules that have forbidden so many morally important activities for the last few months.
All this is perfectly true. But with a pinch more honesty, Douthat might have concluded that "the original theory" was a sham to begin with. If the Right Thinkers had been telling the truth when they herded us all into captivity back in March, they'd still be yelling "obey or die!" at every crowd that defies lockdown orders.
Douthat interprets their inconsistency as a surrender to the virus; he can't admit that the Right Thinkers' real battle was never against COVID19. It was against us.
The same conclusion stares us in the face from the Right Thinkers' eulogizing of protests against police brutality — or, rather, from what their encomiums to those protests consistently omit.
The demonstrations spearheaded by Black Lives Matter focus on police-state tactics employed by uniformed enforcers of the will of the State; the much-maligned anti-lockdown protesters have been objecting to police-state tactics employed by political officials of the State itself.
The connection between the two sets of protests should be obvious. But have you heard any of the high-profile liberals who are paying homage to Black Lives Matter breathe a single word to the effect that these different groups of protesters ought to combine their efforts, or at least to coordinate their campaigns in order to increase their political effectiveness?
Of course not — and in my view, that's the real reason behind the hypocritical nonsense being spouted in support of BLM by establishmentarians who merely sneered when the protesters were white working people.
As long as Black Lives Matter continues to observe the double limitation that has so far marked its demonstrations — protesting only along racial lines, and only against the police — the ruling class's left-wing will go on blessing it, because it won't constitute too large a threat to established order.
That was styled as a "protest," but don't kid yourselves: if Pelosi & Co. were genuinely horrified about police racism, they would have done something about it years ago. I think those Democratic heavyweights knelt to pray that BLM doesn't realize it's confronting a broader issue than racist police violence.
Of course, nothing I can write is going to penetrate the minds of people who have drunk the lockdown Kool-Aid and will hear, in my dissection of the fraudulent language used by "public servants" to foment poverty and to shred the Bill of Rights, only some sort of "coronavirus denial."
But it is still true that the American and British publics were tricked into endorsing a criminal invasion of that country on the strength of false claims. And no assortment of after-the-fact apologetics can turn those lies into truths.
We were told the virus would kill millions in the US alone, and that was false.

We were told lockdowns would make it go away, and that was false.

We were told we would only be confined until the rate of new cases leveled off, and that was false.

We were told that while the outbreak lasted no state government would tolerate any sort of public gathering for any reason, and that was false.

We were told that anyone who questioned the wisdom of the draconian restrictions foisted on us by our governments was a crypto-Nazi whose real goal was to kill off the weak — and that was false, not to mention slanderous.

Most unforgivably of all, we were told — and told, and told — that morality was entirely on the side of the democracy-destroyers. That was a lie of breathtaking proportions.
And even as mainstream media begin to admit these facts, they still subvert reality by pretending that all this suffering is a result "of the coronavirus."
"The beginning of wisdom," said Confucius, "is to call things by their proper name."
Evidently, stories that promote coronavirus hysteria constitute "important information," while stories that lend support to dissenters do not — not even when they concern the reasoning of the highest court of a major state.
So yes, the COVID19 game is rigged — as games run by our rulers usually are. But false depictions of reality have power only to the extent honest people allow themselves to be deceived.
---
Epstein Case: Documentaries Won't Touch Tales Of Intel Ties
Promotional material for "Who Killed Jeffery Epstein?" promises that: "… exclusive interviews and in-depth investigations reveal new clues about his seedy underworld, privileged life and controversial death. The three-hour special looks to answer the questions surrounding the death of this enigmatic figure." Netflix billed its series this way: "Stories from survivors fuel this docuseries examining how convicted sex offender Jeffrey Epstein used his wealth and power to carry out his abuses."
Ben-Menashe claimed Robert Maxwell was Epstein's "tie over. Robert Maxwell was the conduit [in the Iran-Contra scandal]. The financial conduit."
Prince Andrew
Both documentaries mention Prince Andrew in the context of allegations about him from one of Epstein's victims, Virginia Roberts Giuffre. But neither film goes into much detail about Andrew's role in the Epstein operation, which Ben-Menashe said, was to lure powerful men into Epstein's orbit.
"The only person that can talk, that probably knows quite a bit, is the great prince," Ben-Menashe said. "He was with him [Epstein] all the time. I really don't know what his future is going to be like, either."
Since a number of influential figures were named in a lawsuit filed by Giuffre against Ghislaine Maxwell the day before Epstein was found dead in his federal prison cell in New York, Ben-Menashe said: "I'm starting to think that lawsuit was his death sentence, because people didn't want to be named. That's my guess, it's just a guess. Obviously, somebody decided that he had to go."
An Angry Call
"They called me, and they went wild: 'What, you believe Israel would use little girls? You are saying that? You are insulting the nation, you are making us anathema around the world.' I said, 'The truth is the truth.' And Jeffrey Epstein's story is something that nobody wanted to hear. He was working with the Israelis, he was working with Maxwell," Ben-Menashe said.
He added: "It's a very bad story, and I can see why the Israelis are so concerned about it. I believe [Channel 13] were expressing anger, and I believe this was a message. I don't like messages like that… it has to do with the timing and these stories coming out about Epstein. They [Israel] are starting to become anathema to the world, this adds to it — the Epstein story."
Victims' Voices
The Netflix and Investigation Discovery productions allow survivors to recount their experiences in interviews as well as taped police recordings and focus on the sweetheart plea deal provided to Epstein by former Trump Labor Secretary Alexander Acosta during Acosta's tenure as U.S. attorney for the Southern District of Florida.
Each series outlines Epstein's relationships with Wexner, Maxwell, and a variety of elite figures. Investigation Discovery focuses on the controversy surrounding Epstein's death while Netflix's "Filthy Rich" examines the second attempt to prosecute Epstein in the context of the Me Too movement.
The Netflix series describes the initial investigation of Epstein as it shifted from the state to the federal level, and airs allegations that Florida journalists covering the story were threatened. Netflix also interviews psychologist Dr. Kathryn Stamoulis, a specialist in adolescent sexuality, who gives a description of Epstein's targeting and grooming of young girls. Epstein survivor Giuffre later describes in the film being groomed to tolerate exploitation and sex trafficking as part of a "deranged family."
The final section of the fourth episode in Netflix's miniseries includes a survivor stating that this was not simply an Epstein operation, but an "international sex trafficking ring that reached all over the world." Epstein is described as a "very small piece in a huge network." But the documentary goes no further than that.
Omitting the intelligence aspect of Epstein's history allows the Establishment media to portray his case as a mysterious and unsolvable aberration, rather than perhaps a continuation of business-as-usual amongst those in power.
Lip Service
"I think that one of the goals of this [Netflix] documentary is to basically imply that Epstein was the head of the operation and that now that he is dead, all of that activity has ceased," Webb said. "If they had actually bothered to explore the intelligence angle, in some of the more obvious facts about the case, like Leslie Wexner's role, for example, it becomes clear that Epstein was really just more of a manager of this type of operation, [and] that these activities continue."
Webb said a main reason for avoiding discussion of the intelligence angle is that mention of state sponsorship would lead to calls for accountability and open inquiry into a history of sexual blackmail by intelligence agencies. "So if they had given even superficial treatment of those ties, it would have exposed threads that if anyone had bothered to pull on a little bit, would start to unravel a lot of things that obviously these powerful people and institutions don't want exposed," Webb said.
"The criminal case against him, and all the evidence that was gathered against him as part of that, will never be made public unless someone else is charged," said Webb. "So, the fact that they're not charging anyone else is quite telling, and the fact that the mainstream media isn't pushing back against that, I think is telling as well."
---
Do Deep State Elements Operate Within the Protest Movement?
---
Veteran CIA Analyst: How An Internet 'Persona' Helped Birth Russiagate
Four years ago on June 15, 2016, a shadowy Internet persona calling itself "Guccifer 2.0" appeared out of nowhere to claim credit for hacking emails from the Democratic National Committee on behalf of WikiLeaks and implicate Russia by dropping "telltale" but synthetically produced Russian "breadcrumbs" in his metadata.
Thanks largely to the corporate media, the highly damaging story actually found in those DNC emails – namely, that the DNC had stacked the cards against Bernie Sanders in the party's 2016 primary – was successfully obscured.
The media was the message; and the message was that Russia had used G-2.0 to hack into the DNC, interfering in the November 2016 election to help Donald Trump win.
Almost everybody still "knows" that – from the man or woman in the street to the forlorn super sleuth, Special Counsel Robert Swan Mueller III, who actually based indictments of Russian intelligence officers on Guccifer 2.0.
Blaming Russia was a magnificent distraction from the start and quickly became the vogue.
The soil had already been cultivated for "Russiagate" by Democratic PR gems like Donald Trump "kissing up" to former KGB officer Vladimir Putin and their "bromance" (bromides that former President Barack Obama is still using). Four years ago today, "Russian meddling" was off and running – on steroids – acquiring far more faux-reality than the evanescent Guccifer 2.0 persona is likely to get.
Here's how it went down:
June 12: WikiLeaks founder Julian Assange announced he had "emails related to Hillary Clinton which are pending publication."
June 14: DNC contractor CrowdStrike tells the media that malware has been found on the DNC server and claims there is evidence it was injected by Russians.
June 15: Guccifer 2.0 arises from nowhere; affirms the DNC/CrowdStrike allegations of the day before; claims responsibility for hacking the DNC; claims to be a WikiLeaks source; and posts a document that forensic examination shows was deliberately tainted with "Russian fingerprints." This to "corroborate" claims made by CrowdStrike executives the day before.
Adding to other signs of fakery,
there is hard evidence that G-2.0 was operating mostly in U.S. time zones and with local settings peculiar to a device configured for use within the US
, as Tim Leonard reports
here
and
here
.)
Leonard is a software developer who started to catalog and archive evidence related to Guccifer 2.0 in 2017 and has issued detailed reports on digital forensic discoveries made by various independent researchers – as well as his own – over the past three years. Leonard points out that WikiLeaks said it did not use any of the emails G2.0 sent it, though it later published similar emails, opening the possibility that whoever created G2.0 knew what WikiLeaks had and sent it duplicates with the Russian fingerprints.
As Veteran Intelligence Professionals for Sanity (VIPS) told President Trump in a
memorandum
of July 24, 2017, titled "Was the 'Russian Hack' an Inside Job?":
"We do not think that the June 12, 14, & 15 timing was pure coincidence. Rather, it suggests the start of a pre-emptive move to associate Russia with anything WikiLeaks might have been ready to publish and to 'show' that it came from a Russian hack."
We added this about Guccifer 2.0 at the time:
"The recent forensic studies fill in a critical gap. Why the FBI neglected to perform any independent forensics on the original 'Guccifer 2.0' material remains a mystery – as does the lack of any sign that the 'hand-picked analysts' from the FBI, CIA, and NSA, who wrote the misnomered 'Intelligence Community' Assessment dated January 6, 2017, gave any attention to forensics."
Guccifer 2.0 Seen As a Fraud
In our July 24, 2017 memorandum we also told President Trump that independent cyber investigators and VIPs had determined "that the purported 'hack' of the DNC by Guccifer 2.0 was not a hack, by Russia or anyone else. Rather it originated with a copy (onto an external storage device – a thumb drive, for example) by an insider. Information was leaked to implicate Russia. We do not know who or what the murky Guccifer 2.0 is. You may wish to ask the FBI." [Emphasis added.].
Right. Ask the FBI. At this stage, President Trump might have better luck asking Attorney General William Barr, to whom the FBI is accountable – at least in theory. As for Barr, VIPs informed him in a June 5, 2020
memorandum
that the head of CrowdStrike had admitted under oath
on Dec. 5, 2017
that CrowdStrike has no concrete evidence that the DNC emails published by WikiLeaks on July 22, 2016 were hacked – by Russia or by anyone else. [Emphasis added.]
This important revelation has so far escaped attention in the Russia-Russia-Russia "mainstream" media
(surprise, surprise, surprise!).
Back to the Birth of G-2
It boggles the mind that so few Americans could see Russiagate for the farce it was. Most of the blame, I suppose, rests on a thoroughly complicit Establishment media. Recall: Assange's announcement on June 12, 2016 that he had Hillary Clinton-related emails came just six weeks before the Democratic convention. I could almost hear the cry go up from the DNC: Houston, We Have a Problem!
Here's how bad the problem for the Democrats was. The DNC emails eventually published by WikiLeaks on July 22, 2016, just three days before the Democratic convention, had been stolen on May 23 and 25. This would have given the DNC time to learn that the stolen material included documents showing how the DNC and Clinton campaign had manipulated the primaries and created a host of other indignities, such that Sanders' chances of winning the nomination amounted to those of a snowball's chance in the netherworld.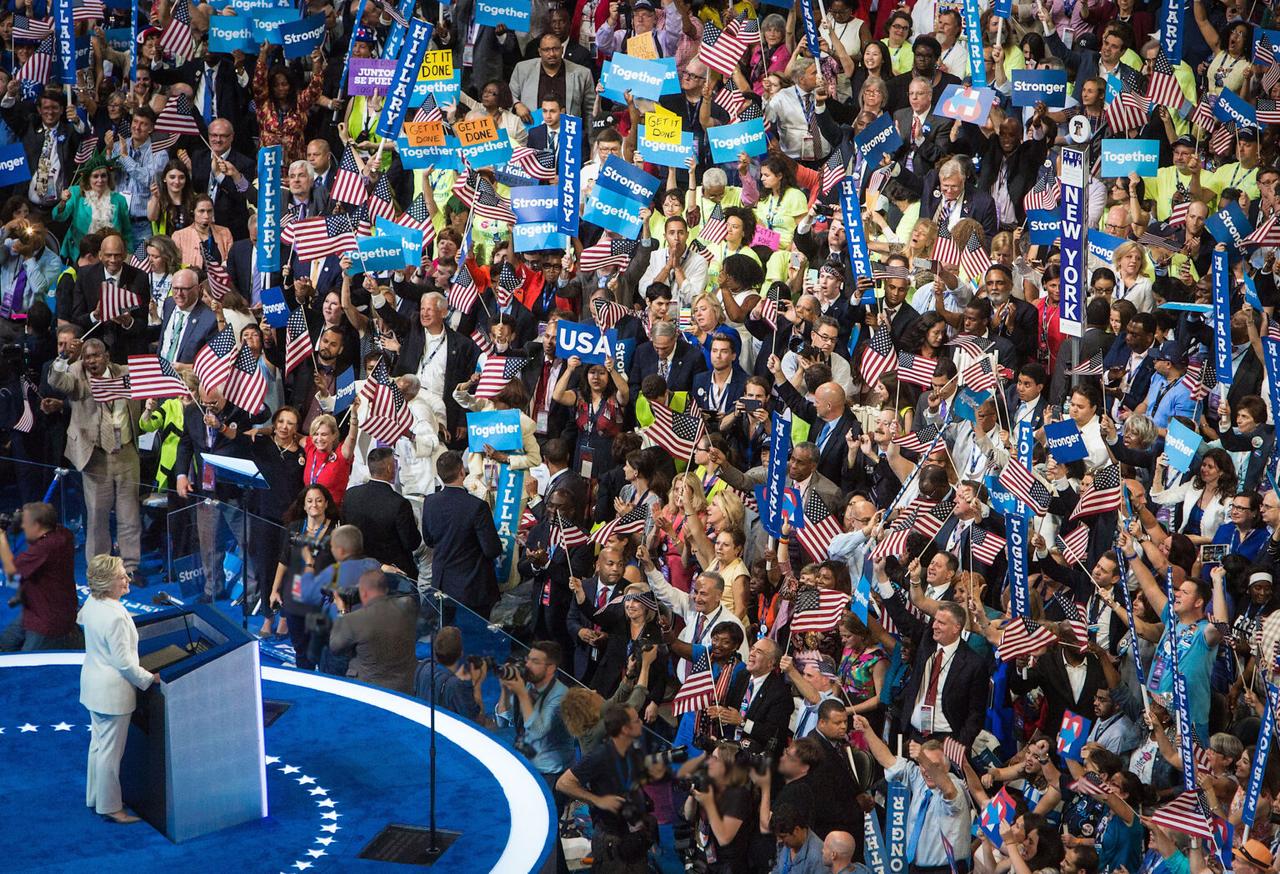 To say this was an embarrassment would be the understatement of 2016. Worse still, given the documentary nature of the emails and WikiLeaks' enviable track record for accuracy, there would be no way to challenge their authenticity. Nevertheless, with the media in full support of the DNC and Clinton, however, it turned out to be a piece of cake to divert attention from the content of the emails to the "act of war" (per John McCain) that the Russian "cyber attack" was said to represent.
The outcome speaks as much to the lack of sophistication on the part of American TV watchers, as it does to the sophistication of the Democrats-media complicity and cover-up. How come so few could figure out what was going down?
It was not hard for some experienced observers to sniff a rat. Among the first to speak out was fellow Consortium News columnist Patrick Lawrence, who immediately saw through the Magnificent Diversion. I do not know if he fancies duck hunting, but he shot the Russiagate canard quite dead – well before the Democratic convention was over.
Magnificent Diversion
In late July 2016, Lawrence was sickened, as he watched what he immediately recognized as a well planned, highly significant deflection. The Clinton-friendly media was excoriating Russia for "hacking" DNC emails and was glossing over what the emails showed; namely, that the Clinton Dems had pretty much stolen the nomination from Sanders.
It was already clear even then that the Democrats, with invaluable help from intelligence leaks and other prepping to the media, had made good use of those six weeks between Assange's announcement that he had emails "related to Hillary Clinton" and the opening of the convention.
The media was primed to castigate the Russians for "hacking," while taking a prime role in the deflection. It was a liminal event of historic significance, as we now know. The "Magnificent Diversion" worked like a charm – and then it grew like Topsy.
Lawrence said he had "fire in the belly" on the morning of July 25 as the Democratic convention began and wrote what follows pretty much "in one long, furious exhale" within 12 hours of when the media started really pushing the "the Russians-did-it" narrative.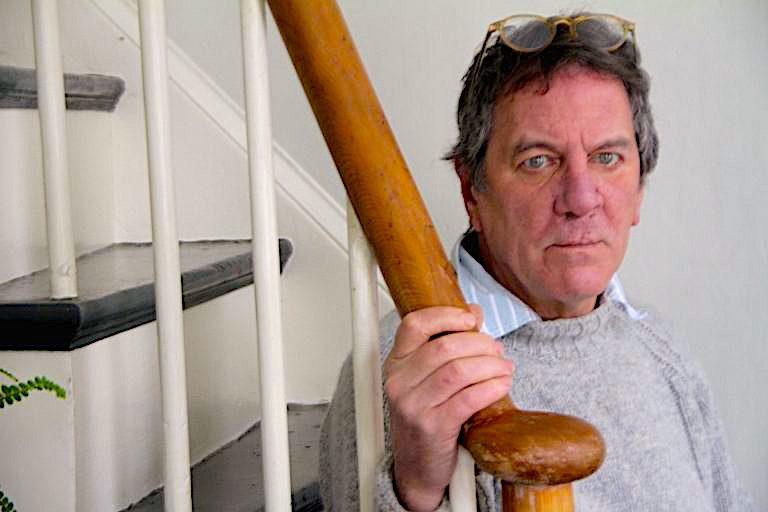 Below is a slightly shortened text of his
article
:
"Now wait a minute, all you upper-case "D" Democrats. A flood light suddenly shines on your party apparatus, revealing its grossly corrupt machinations to fix the primary process and sink the Sanders campaign, and within a day you are on about the evil Russians having hacked into your computers to sabotage our elections …
Is this a joke? Are you kidding? Is nothing beneath your dignity? Is this how lowly you rate the intelligence of American voters? …
Clowns. Subversives. Do you know who you remind me of? I will tell you: Nixon, in his famously red-baiting campaign – a disgusting episode – … during his first run for the Senate, in 1950. Your political tricks are as transparent and anti-democratic as his, it is perfectly fair to say.
I confess to a heated reaction to events since last Friday [July 22] among the Democrats, specifically in the Democratic National Committee. I should briefly explain …
The Sanders people have long charged that the DNC has had its fingers on the scale, as one of them put it the other day, in favor of Hillary Clinton's nomination. The prints were everywhere – many those of Debbie Wasserman Schultz, who has repeatedly been accused of anti-Sanders bias. Schultz, do not forget, co-chaired Clinton's 2008 campaign against Barack Obama. That would be enough to disqualify her as the DNC's chair in any society that takes ethics seriously, but it is not enough in our great country. Chairwoman she has been for the past five years.
Last Friday WikiLeaks published nearly 20,000 DNC email messages providing abundant proof that Sanders and his staff were right all along. The worst of these, involving senior DNC officers, proposed Nixon-esque smears having to do with everything from ineptitude within the Sanders campaign to Sanders as a Jew in name only and an atheist by conviction.
Wasserman fell from grace on Monday. Other than this, Democrats from President Obama to Clinton and numerous others atop the party's power structure have had nothing to say, as in nothing, about this unforgivable breach. They have, rather, been full of praise for Wasserman Schultz. Brad Marshall, the D.N.C.'s chief financial officer, now tries to deny that his Jew-baiting remark referred to Sanders. Good luck, Brad: Bernie is the only Jew in the room.
The caker came on Sunday, when Robby Mook, Clinton's campaign manager, appeared on ABC's "This Week" and … CNN's "State of the Union" to assert that the D.N.C.'s mail was hacked "by the Russians for the purpose of helping Donald Trump." He knows this – knows it in a matter of 24 hours – because "experts" – experts he will never name – have told him so. …
What's disturbing to us is that experts are telling us that Russian state actors broke into the DNC, stole these emails, and other experts are now saying that Russians are releasing these emails for the purpose of helping Donald Trump.
Is that what disturbs you, Robby? Interesting. Unsubstantiated hocus-pocus, not the implications of these events for the integrity of Democratic nominations and the American political process? The latter is the more pressing topic, Robby. You are far too long on anonymous experts for my taste, Robby. And what kind of expert, now that I think of it, is able to report to you as to the intentions of Russian hackers – assuming for a sec that this concocted narrative has substance?
Making lemonade out of a lemon, the Clinton campaign now goes for a twofer. Watch as it advances the Russians-did-it thesis on the basis of nothing, then shoots the messenger, then associates Trump with its own mess – and, finally, gets to ignore the nature of its transgression (which any paying-attention person must consider grave).
Preposterous, readers. Join me, please, in having absolutely none of it. There is no "Russian actor" at the bottom of this swamp, to put my position bluntly. You will never, ever be offered persuasive evidence otherwise.
Reluctantly, I credit the Clinton campaign and the DNC with reading American paranoia well enough such that they may make this junk stick. In a clear sign the entire crowd-control machine is up and running, The New York Times had a long, unprofessional piece about Russian culprits in its Monday editions. It followed Mook's lead faithfully: not one properly supported fact, not one identified "expert," and more conditional verbs than you've had hot dinners – everything cast as "could," "might," "appears," "would," "seems," "may." Nothing, once again, as to the very serious implications of this affair for the American political process.
Now comes the law. The FBI just announced that it will investigate – no, not the DNC's fraudulent practices (which surely breach statutes), but "those who pose a threat in cyberspace." … it is the invocation of the Russians that sends me over the edge. My bones grow weary …
We must take the last few days' events as a signal of what Clinton's policy toward Russia will look like should she prevail in November. … Turning her party's latest disgrace into an occasion for another round of Russophobia is mere preface, but in it you can read her commitment to the new crusade.
Trump, to make this work, must be blamed for his willingness to negotiate with Moscow. This is now among his sins. Got that? Anyone who says he will talk to the Russians has transgressed the American code. … Does this not make Hillary Clinton more than a touch Nixonian?
I am developing nitrogen bends from watching the American political spectacle. One can hardly tell up from down. Which way for a breath of air?"
A year later Lawrence interviewed several of us VIPs, including our two former NSA technical directors and on Aug. 9, 2017 published an
article
for
The Nation
titled, "A New Report Raises Big Questions About Last Year's DNC Hack."
Lawrence wrote, "Former NSA experts, now members of Veteran Intelligence Professionals for Sanity (VIPs), say it wasn't a hack at all, but a leak – an inside job by someone with access to the DNC's system."
And so it was. But, sadly, that cut across the grain of the acceptable Russia-gate narrative at The Nation at the time. Its staff, seriously struck by the HWHW (Hillary Would Have Won) virus, rose up in rebellion. A short time later, there was no more room at The Nation for his independent-minded writing.
---
Beware the Hijacking of U.S. Protests Into a 'Color Revolution'
---
SoftBank Used 'Circular Financing' Scheme To Prop Up Struggling Vision Fund Companies
Just imagine for a second that you're the treasurer or CFO of a mid-sized corporation, and your looking for somewhere to park money where you can earn a decent return without taking too much risk. One of the Credit Suisse corporate bankers comes to you one day with an idea. They call it "supply-chain financing".
The new strategy is essentially just another tool to help companies more "flexibility" in managing their short-term financing needs. It's a fool-proof idea, the banker explains, because even if the companies default, there are all kinds of insurance policies and other safeguards in place to help make the lenders whole. You're a
So you invest. A few years later, your banker calls with some bad news. Four of the 10 companies to which the fund was most heavily exposed imploded, and are likely headed for liquidation. It could be years before the lenders are made whole – if ever – and you and your fellow unlucky investors are simply along for the ride, but you can probably kiss that money goodbye.
Several months later, you open the FT, only to discover that many of the other investors in the fund, as well as the advisor managing the fund, were all financially linked to the companies in which the fund was investing. The circular flow of money from the funds to the companies' suppliers means that, for these other investors, any losses stemming from loan defaults have already been offset, since they're basically paying themselves…with your money.
Well, that appears to be what happened to some investors who weren't too happy when they found out that several Credit Suisse 'supply chain finance' funds were essentially part of an elaborate shell game orchestrated by SoftBank to help inflate the value of Vision Fund portfolio companies by making them look more financially healthy than they actually were.
SoftBank has quietly poured more than $500m into Credit Suisse investment funds that in turn made big bets on the debt of struggling start-ups backed by the Japanese technology conglomerate's Vision Fund. SoftBank made the investment into the Swiss bank's $7.5bn range of supply-chain finance funds, said three people familiar with the matter. Credit Suisse touts these funds to professional investors, such as corporate treasurers, as a safe place to park their cash in the short-term debts of seemingly diversified companies. Marketing documents sent to investors show that these funds have ramped up their exposure to several start-ups in the Japanese group's $100bn Vision Fund over the past year. This has coincided with a disastrous stretch in which $18bn was wiped off the equity value of these technology bets. At the centre of the circular flow of funding is Greensill Capital, a Vision Fund-backed company that says it is "making finance fairer". The London-based firm, which employs former British prime minister David Cameron as an adviser, selects all of the assets that go into the Credit Suisse funds under an agreement dating back to 2017.
SoftBank effectively used these Credit Suisse funds – which were administered by Greensill Capital, an investment firm that, bizarrely, received a $1.5 billion slug of cash from VF. Aside from being run by an Aussie "paper billionaire" and advised by former Tory PM David Cameron, it's not clear exactly what Greensill is supposed to be doing with all that money. But the company has managed to find itself enmeshed in all sorts of skullduggery uncovered by the intrepid reporters at the FT.
Four of the CS's supply chain finance funds' top investments were tied to Vision Fund portfolio companies.
Marketing documents for Credit Suisse's main supply-chain finance fund show that, at the end of March, four of its top 10 largest exposures were to Vision Fund companies, accounting for 15 per cent of its $5.2bn assets. This included companies hit hard in the coronavirus crisis, such as Indian hotel business Oyo and struggling car subscription start-up Fair. A separate document shows that Santa Monica-based Fair was also the second-largest exposure in Credit Suisse's "high income" supply-chain finance fund at the end of last year. In October, the car subscription company's founder and chief executive resigned shortly after announcing plans to cut 40 per cent of its workforce. Audited accounts for both funds show they had no exposure to Fair at the end of that month, suggesting that they only began financing the company after its difficulties came to the fore.
As the
FT explains,
investors (well, the investors who aren't SoftBank) have pulled $1.5 billion from the Greensill-managed Credit Suisse funds as several of Greensill's investments went sideways. Another interesting thing about Greensill: former British PM David Cameron is a paid advisor.
But now, the firm has hit upon a new strategy that just might revive the sagging fortunes of the SoftBank-backed lender.
Clients have withdrawn more than $1.5bn from these supply-chain finance funds this year, after a string of Greensill Capital's clients defaulted on their debts in high-profile corporate collapses and accounting scandals, such as former FTSE 100 company NMC Health. Credit Suisse has told investors that a group of insurers and Greensill itself are covering losses in the funds. Australian financier Lex Greensill founded the company in 2011 and cemented his status as a paper billionaire last year when SoftBank's Vision Fund invested $1.5bn into his eponymous firm. Greensill Capital specialises in supply-chain finance, where businesses borrow money to pay their suppliers. This week the British Business Bank approved Greensill to provide so-called "invoice finance" through the UK's Coronavirus Large Business Interruption Loan scheme. "Making sure capital reaches the real economy, where it is needed most, is integral to Britain's broader economic recovery," Mr Greensill said of the decision.
There's nothing like extracting rents from government capital intended for the "real economy" to help keep a small, politically connected lender afloat.
---
Chinese Scientist, Escorted Out Of Canadian Biolab, Sent Deadly Viruses To Wuhan
"We have a researcher who was removed by the RCMP from the highest security laboratory that Canada has for reasons that government is unwilling to disclose. The intelligence remains secret. But what we know is that before she was removed, she sent one of the deadliest viruses on Earth, and multiple varieties of it to maximize the genetic diversity and maximize what experimenters in China could do with it, to a laboratory in China that does dangerous gain of function experiments. And that has links to the Chinese military." -Amir Attaran
A Chinese scientist who was escorted out of Canada's only level-4 biolab over a possible "policy breach" shipped dealdy
Ebola and Henipah
viruses to the
Wuhan Institute of Virology
, according to the
CBC
, citing newly-released documents. The shipment is not related to COVID-19 or the pandemic.
Dr. Xiangguo Qiu, her husband Keding Cheng and her Chinese students were removed from the Canadian lab after the Public Health Agency of Canada (PHAC) asked the RCMP to investigate several months earlier. According to PHAC, Qiu's eviction from the lab is not connected to the shipment.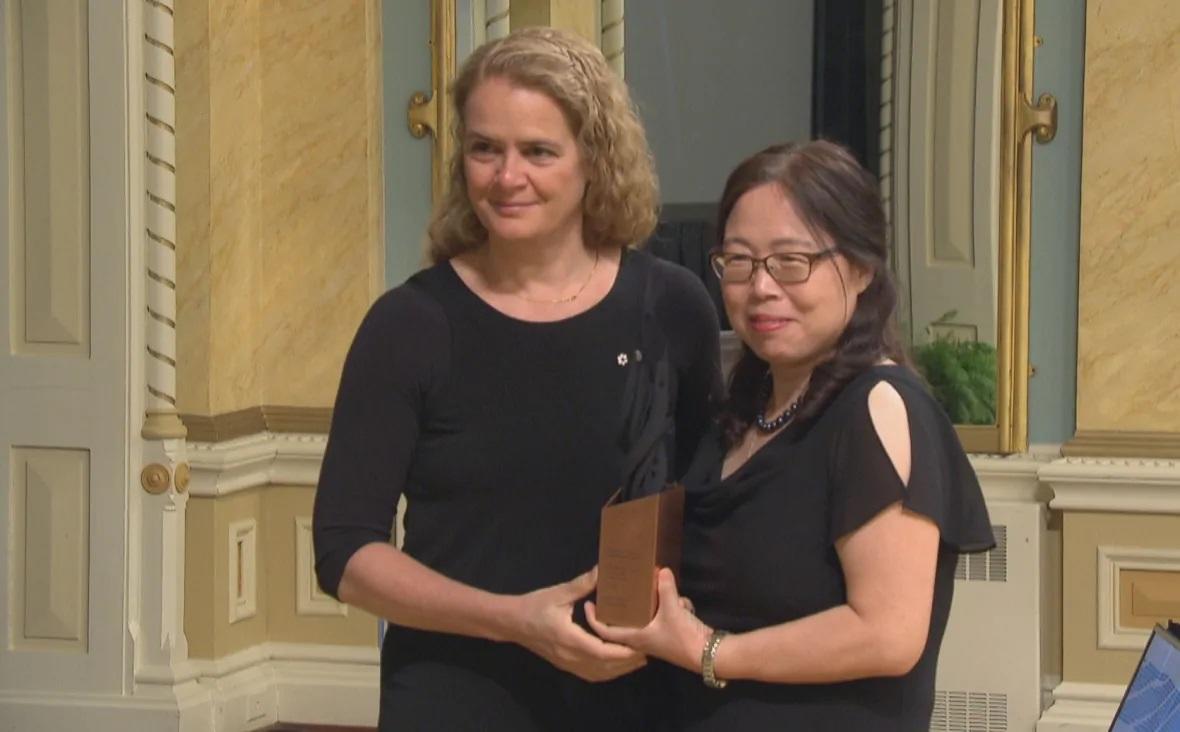 "The administrative investigation is not related to the shipment of virus samples to China, said PHAC chief of media relations, Eric Morrissette."
"In response to a request from the Wuhan Institute of Virology for viral samples of Ebola and Henipah viruses, the Public Health Agency of Canada (PHAC) sent samples for the purpose of scientific research in 2019."
To recap, a Chinese scientist, her husband and her Chinese students were escorted out of Canada's only Level-4 lab for reasons unknown, and which are not related to her shipment of deadly viruses to the Wuhan Institute of Virology.
"It is suspicious. It is alarming. It is potentially life-threatening," said University of Ottawa law professor and epidemiologist, Amir Attaran.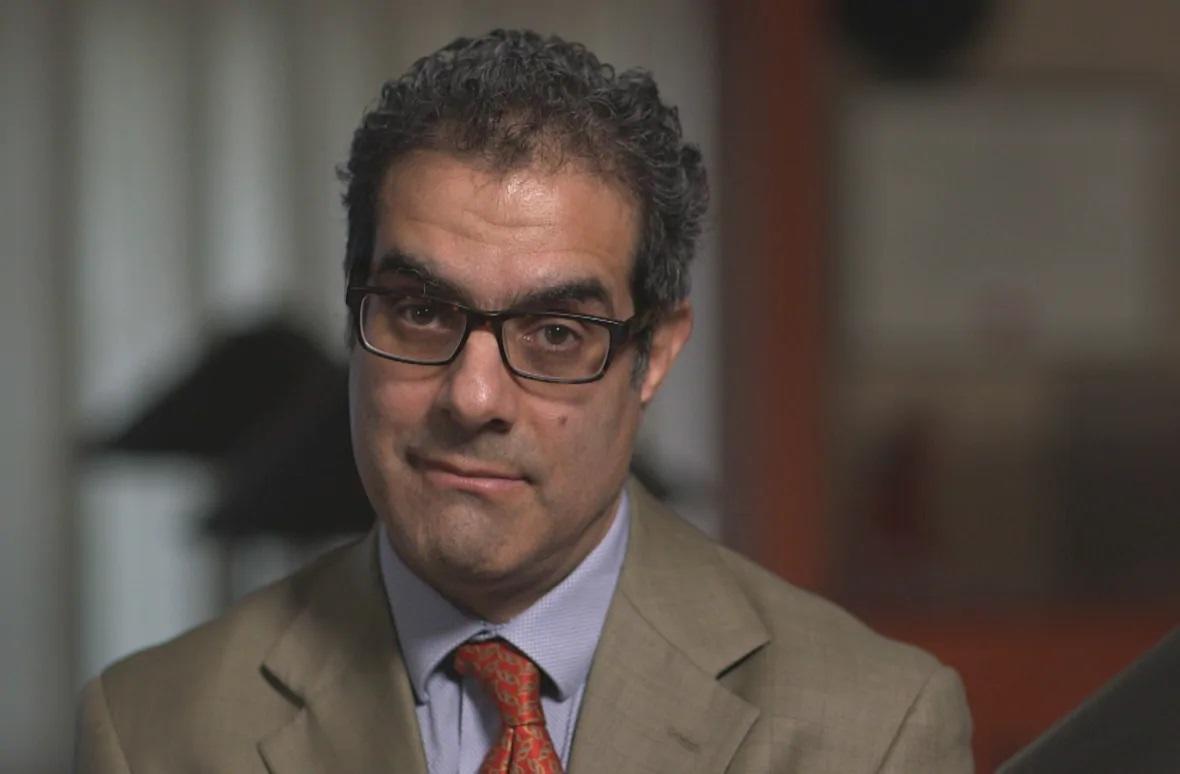 While Canada doesn't do 'gain-of-function' experiments – which are where natural pathogens are mutated in a lab and assessed to see if it has become more deadly or infectious, "The Wuhan lab does them and we have now supplied them with Ebola and Nipah viruses. It does not take a genius to understand that this is an unwise decision," said Attaran.
"
I am extremely unhappy to see that the Canadian government shared that genetic material.
"
Attaran pointed to an Ebola study first published in December 2018, three months after Qiu began the process of exporting the viruses to China. The study involved researchers from the NML and University of Manitoba.

All of this has led to conspiracy theories linking the novel coronavirus responsible for COVID-19, Canada's microbiology lab, and the lab in Wuhan. –

CBC
According to the report, the RCMP and PHAC have repeatedly denied any connections between the virus shipments and COVID-19.
According to the newly-released documents, the following virus strains were shipped to the WIV (approximately 15 ml):
Ebola Makona (three different varieties)

Mayinga.

Kikwit.

Ivory Coast.

Bundibugyo.

Sudan Boniface.

Sudan Gulu.

MA-Ebov.

GP-Ebov.

GP-Sudan.

Hendra.

Nipah Malaysia.

Nipah Bangladesh.
The documents also shed light on communications from the months leading up to the shipment – including confusion on how to package the viruses, along with a lack of decontamination of the package prior to its shipment, as well as concerns expressed by NML Director-General Matthew Gilmour to his superiors in Ottawa – particularly over where the package was going, what was in it, and whether its paperwork was in order.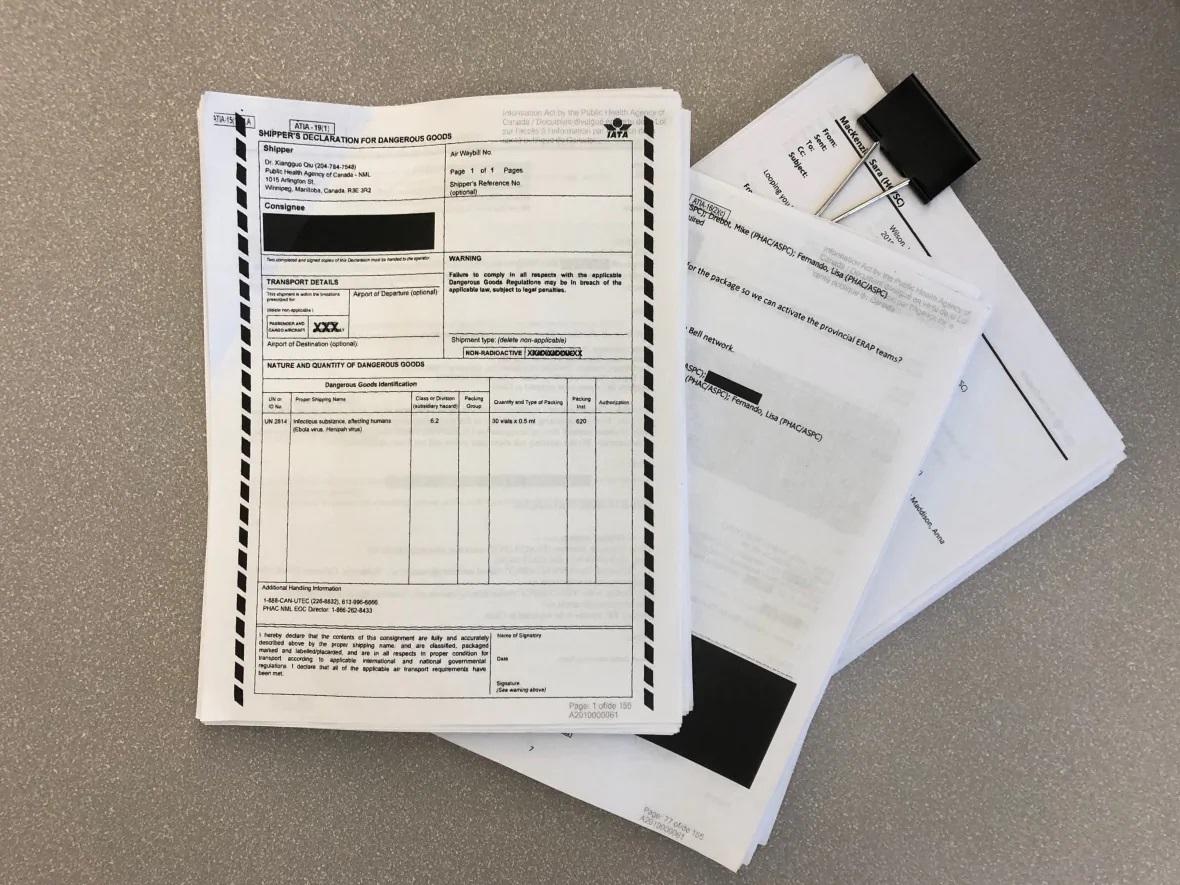 In one email, Gilmour said Material Transfer Agreements would be required, "not generic 'guarantees' on the storage and usage."

He also asked David Safronetz, chief of special pathogens: "Good to know that you trust this group. How did we get connected with them?"

Safronetz replied: "They are requesting material from us due to collaboration with Dr. Qiu."

–

CBC
According to the report, the shipper of the viruses had originally planned to use inappropriate packaging, and only corrected the mistake when the WIV flagged the issue.
"The only reason the correct packaging was used is because the Chinese wrote to them and said, 'Aren't you making a mistake here?' If that had not happened, the scientists would have placed on an Air Canada flight, several of them actually, a deadly virus incorrectly packaged. That nearly happened," said Attaran.
Read the rest of the report
here
.